Answering Your Questions About Watering Plants And Trees in Late Summer
---
It's Late Summer And The Heat Is On, And JRM Is Here To Offer Advice.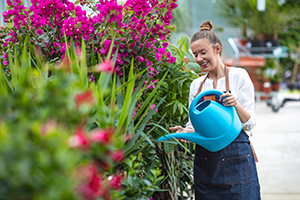 At JRM, we are focused on being a ready resource whether you are a homeowner, professional landscaper, grower, retailer, or florist. If you're someone who wants to keep your plants healthy in a sustainable way, we want to help you achieve that. So, this month, we are going to ask some of the questions we often field at this time of year when heat stress is a problem across most of the country. We encourage you to reach out to our team at any time. We offer a series of how-to videos and articles, and our team is there to answer the call.
Now, let's address the most common issues we're experiencing in August and how to preserve, maintain and encourage the health and vitality of your lawn, garden, and plantings.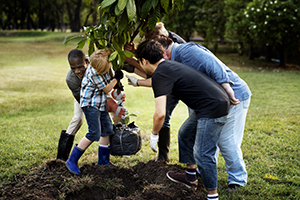 Q: When is the ideal time to plant trees and shrubs?
A: Mid-August through mid-October is the ideal planting window for putting trees in the ground because we're heading into cooler temperatures and more precipitation in fall. Tree roots can get established before winter and get a leg up on growing before the next summer's season of heat stress. Sure, August can be awfully hot. But the benefit of planting now instead of earlier (June, July) is that drought periods are winding down and the new tree will soon require less irrigation.
The same is true for shrubs. Your customers might need plant replacements, especially if there are plants that succumbed to heat stress, or were hit by a disease or insect that compromised health. And there's the natural cycle of life, so plants can "age out." Now is a great time to discuss tree and shrub plantings with clients so you can schedule these projects during the next several months.
>>Pro Tip: While planting, add an amendment like Soil Moist that will reduce waterings by up to 50%. It is effective for three to five years—and you can explain to customers, this is basically plant insurance. The formula is also highly effective for plant transplanting.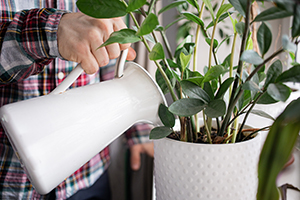 Q: How can I keep up with watering in late summer without spending so much on my water bill?
A: It's not easy. By now, you might be looking out a picture window at a brown yard and spending time holding the hose over your landscape plantings. Even diligent container watering can be tricky. With planting season over, the focus now is on maintaining what you have and keeping them healthy, so you don't end up replanting.
>>Pro Tip: How would you like to cut your watering time in half? (You'll find other ways to use that time.) Soil Moist stores more than 200 times its weight in water and releases a steady supply, only when plants need it. It lasts several seasons, so we think of it as a "set it and forget it" type tool that is non-toxic. Also, solutions like Plant Thrive improve soil conditions for plant growth and can be worked into the soil to deliver naturally occurring bacteria. The organic product is suitable for plants, vegetables, flowers, and trees.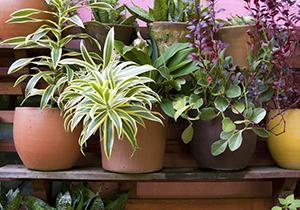 Q: How can I keep my houseplants and containers watered while I'm on vacation?
A: You mean, without asking the neighbor for help? When you leave town, you're probably adjusting the thermostat so your air conditioning doesn't run nonstop and that also means houseplants can dry out faster. And when you're getting ready to leave town, watering plants on your way out the door is probably not top of mind. We get it.
>>Pro Tip: Save yourself the hassle with Soil Moist Vacation Mats. (We thought you might want to know these were voted "Best New Product" from the Super Floral Show and Green Profit magazine.) These water-storing mats contain polymers, and you can use them to line the baskets. You can simply place them on a counter and the plants are watered through capillary action for up to three weeks. Or, tuck some Soil Moist Plant Spikes into the container have a three- to four-month time release fertilizer so your plants can stay healthy without a second thought.
What's in store for the rest of your summer? How about "storing" more water so you can save time, money, and resources? Tell us how you use Soil Moist products at home or in your business. We look forward to hearing from you!
Back to Blog »