Soil Moist stores water and releases it as plants need it.
---
Ideal for Containers, Baskets, Gardens, Vegetables, Turf & Trees
JRM features a wide array of products to help reduce your time, efforts and money for your home landscaping. Soil Moist polymers reduce your plant waterings by 50%, reduce transplant shock and soil compaction and is effective in the soil for 3-5 years. It is an effective water management aid that is ideal for interior and exterior plantings such as for trees, shrubs, containers, baskets, flower beds, vegetables and turf. Soil Moist acts as a form of insurance for the plant and is environmentally friendly.**
Note: Soil Moist must be incorporated into the soil at the root level of the plant/green good. Do not top dress or place on the surface. All of our products should be kept out of drains. Dispose of in trash container. If material should enter a drain, add table salt and flush with hot water. Although our products are non-toxic and environmentally safe, they are not food products and should not be taken internally. Keep out of reach of children, or children should be supervised by an adult when handling these products. Refer to the SDS found on our website.
Grow Beautiful Plants with Less Water
stores over 200 times its weight in tap water
releases a steady supply of water as your plants need it
non-toxic, safe and economical to use
reduces plant watering by 50%**
reduces transplant shock
lasts several seasons**
---
New Soil Moist Mini Rack
Maximize your profits with a Soil Moist Dealer Mini Rack Merchandiser
centralized water management center
attention grabber
reusable polystyrene rack
compact size makes it easy to display in any size store
Display rack comes with 7 popular cases of Soil Moist:
3 ounce bags
1 pound jars (2 cases)
3 pound containers
8 ounce bags, Soil Moist Plus
1 pound jars, Flower and Garden Plus
3 ounce bag, Transplant
---
Packaging/Display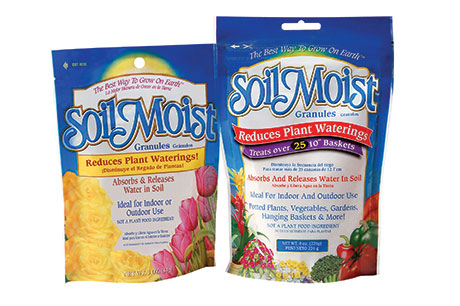 3 oz. bag and 8 oz. bag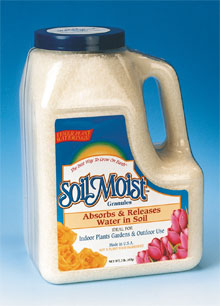 3 lb. jug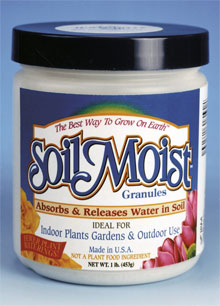 1 lb. jar
---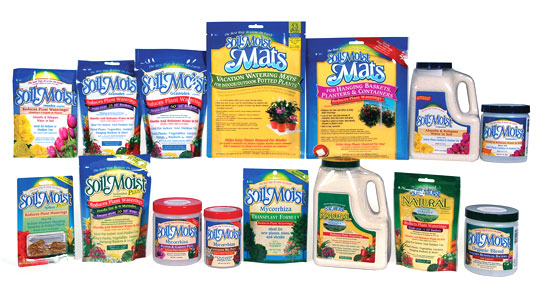 Range of products
Soil Moist Canadian approved retail products; 50 gram bag, 200 gram jar
---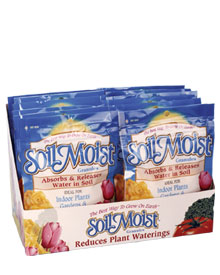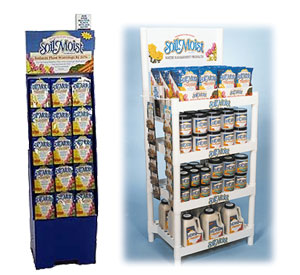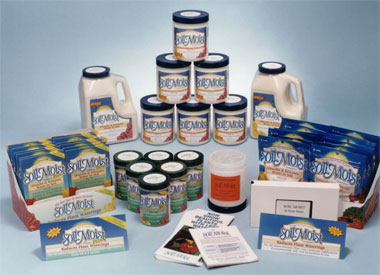 Soil Moist Starter Kit
---

---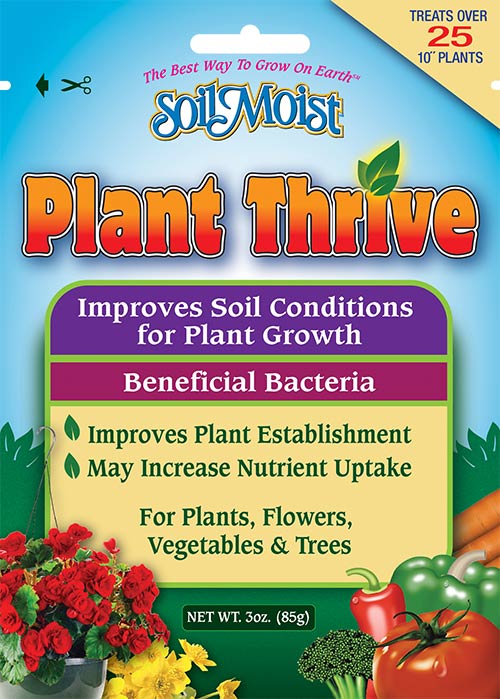 ---
Retail Cross Merchandising Concepts:
Soil Moist makes an ideal cross merchandising item for potted plants, watering needs, trees, shrubs, containers, fertilizers, and potting soils. Wherever watering is required. Ideas are endless...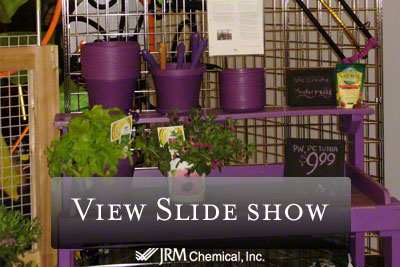 Package Sizes
8 oz. bag (12 per case)
3 oz. bag (12 or 24 per shelf unit; 60 per floor unit)
1 lb. bag (6 per case)
Plant spikes with & without 5-5-5 fertilizer (12 or 24 per case)
Plant disks with 10-10-10 fertilizer (24 per case)
3 lb. container (6 per case)
---
Videos with Mr. J Schwanke and ubloom.com
us about this product.