August Plant Plans — Make the Most of Summer's End
---
Maximize The Month Before We Move Into Fall With These Five August Garden And Landscape Activities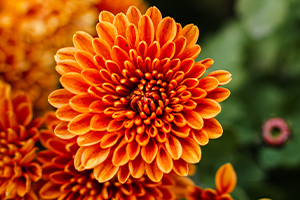 It feels like the end of summer, but there's lots more growing time left in most regions of the country — and there is plenty to do inside and out to keep plants healthy and prepare for fall. From helping plants beat the heat with smart watering tactics to making the most of warm soil temperatures to add plants to your landscape, here are five get-ahead garden activities to address this month.
#1 Divide and Conquer — Successful Transplants
By now, plants like hostas, daylilies and ornamental grasses are brimming out of landscape beds. They're lush, full, and possibly overgrown. So, why not split them up and enhance another space on your property? These plants respond well to dividing, as do daisies and irises.

Some splitting tips: Dig a circle around the plant, and carefully shovel out the root ball. Use your hands to pull it apart into sections. When relocating plants, dig a hole about twice as wide and of equal depth as the root ball.

By applying a transplant formula with mycorrhizal fungi into the planting space first, you're supplying soil with beneficial fungi that colonizes the root system and triggers healthy growth. The fungi help plants absorb resources from the soil. Soil Moist with mycorrhizal fungi includes water-storing polymers to reduce transplant stress by helping soil retain water.

These plant and soil nutrition "fuels" help homeowners and landscape professionals experience greater success with splitting and transplanting perennials
#2 Plan for Fall Color
While soil temperatures are still warm and as summer annuals fade, you can transition those seasonal plants into fall favorites. Mums the word, and they're available in a variety of colors: orange, bronze, purple, pink, white, yellow, green. Planted in landscape beds, mums can take the heat and will last until you're ready to deck the halls for the holidays. In containers, mums can replace summer annuals and refresh a patio or front porch.

Improve soil conditions so your fall plants will thrive with beneficial microbial-based bacteria that can be used when planting, as a drench or foliar spray with the new Plant Thrive, especially designed for these applications at home and on commercial sites.
#3 Dig In — Plant Perennials
By planting perennials and shrubs now, they'll have time to establish before the cold weather seasons and you'll get a jumpstart on spring. Take an opportunity in August to assess plants' health and determine whether any replacements are in order. Considering a landscaping project? It's not too late — and in fact, August planting allows an opportunity to enjoy the fruits of your labor before winter and takes a gardening task off the spring to-do list.

Keep in mind, August heat means paying close attention to plants' watering requirements. But you won't have to overthink it if you prepare the soil with a polymer granular that is designed to cut waterings in half, along with reducing soil compaction that can prohibit roots from absorbing essential nutrients.


#4 Water Wise — Conserve & Preserve Plants
Watering plants is time-consuming, and in August when the heat index is especially high, the water you do provide plants can evaporate before the soil absorbs it at root level. The good news is, you can maximize the efficiency of watering and conserve water with an agent like Soil Moist Water Aide. A bonus for gardeners struggling with thirsty crops: It is OMRI Listed® as acceptable for use by certified organic growers on all types of plants and vegetables.

In many regions of the country, municipalities enforce water restrictions during the hottest months, which can mean assigning watering days. When you prepare with a moisture-retaining polymer, plants will receive the water they need until you can irrigate them again.


#5 Repot Container Plantings
You'll know it's time to repot plants if you see roots pushing out of the bottom of the container, or you feel the plant is not growing at its usual rate. Other indications: the plant is so top heavy that you're scooping up a tumbled container all the time. Roots can also push the plant up, forcing it out of the container. When plants outgrow their vessels, roots do not get enough water and their health will decline. If you set houseplants outdoors during summer, they're probably growing faster than usual, and it might be time to re-evaluate the container to see if it is an appropriate size.

When repotting a plant, some guidelines are to select a container that is about 2 inches larger than the current size for pots that are 10 inches or smaller. For larger containers, select a pot that is about 3 times larger in diameter. This will allow ample room for roots and foliage to grow and spread.

Jumpstart growth and reduce waterings with a container mix that contains beneficial endomycorrhizal fungi and an 8- to 9-month time release fertilizer.


Get More Water Saving Tips
What's in store for the rest of summer, beyond August? How about "storing" more water so you can save time, money, and resources? Tell us how you use Soil Moist products at home or in your business. We look forward to hearing from you! Contact us by filling out this simple form.
Back to Blog »