Plan Ahead to Save Water
---
Waiting To Water Until Dry Conditions Is Not Conservation. Instead, Adopt A Proactive Water-Saving Mindset.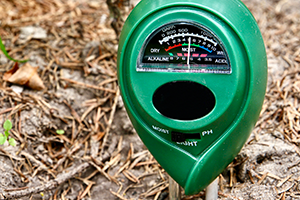 Most of us aren't thinking about watering our landscape plants and turf during times when rainfall is steady, the grass is green, and flowers are lush. Hanging baskets that line city streets bloom strong in spring and early summer when they are not completely reliant on daily watering. Newly planted trees and shrubs take root in supple soil that hasn't yet been subjected to summer's high heat and drought conditions.
Irrigation and water conservation get pushed to the back burner — until plants look thirsty.
Spring showers or not, we do not know what the coming months will bring.Sure, we can forecast and predict — we can bide our time. But there's a real risk to this "water later" mentality. And there's a cost. Not providing necessary water to turf, trees, and everything we're growing can result in plant loss and a negative return on investment.
Waiting to water is not conservation. However, adopting a water savings mindset is insurance for your plants and better for the environment. Let's explain.
Saving Water, Saving Time Our advice for growers, landscape professionals and homeowners is this: Plan ahead to save water. There are ways to conserve this valuable resource yet provide the water plants need to flourish even during drought times. Better yet, you can save time and money in the process.
By working a water-saving polymer into soil at root level when you plant, you can reduce watering by 50%, minimize transplant shock and prevent soil compaction, which basically chokes roots and results in the plant not uptaking water. In many ways, a sustainable water-saving polymer like Soil Moist is "set it and forget it." It is effective in soil for three to five years and can be used when planting interior and exterior plants, including gardens and turf.
Think ahead. The sooner the better for managing water, your time and budget. Now is the time to set your landscape, garden, and interior/exterior plants up for success.

Here are some common scenarios when a water-savings mindset is a game-changer at work, home and in the community.

Cemetery Flowers: You visit the place where a loved one was laid to rest and bring fresh annuals to plant by the headstone. Visits are relatively infrequent, and you want the plant to thrive. By applying a water-saving polymer as you tuck the blooming flowers into the soil, you are exponentially increasing its health and vitality.

Summer Cottage Landscapes: You spend a week at a time at your summer cottage and rent it out during off weeks. Here, too, a water-saving polymer can stretch out the time between waterings so you won't sacrifice curb appeal while you're away.

Municipal Hanging Baskets: Often, cities' flower beds and hanging baskets are watered by volunteers like members of a local garden club. They look beautiful at first, but the watering takes time, and it gets old during the dog days of summer. Reduce waterings by 50% and prevent plants from declining (and complaints from residents about the poor appearance).

Vacation Watering: Travel has returned and many of us are eager to hit the road on vacations. But a trip might cost more than you planned if you return home to failing flower beds, a dried-up garden and stressed turf. Again, by thinking about water savings in advance and incorporating Soil Moist products into your planting practices, you can conserve water and help maintain plant health.

Turf Water Reduction for Landscape Pros: For turf, a new product called Liquid Soil Moist allows professionals to tank-mix a water-saving mist to spray on high-traffic, high-visibility lawn areas. This reduces irrigation requirements and helps sustain healthy grass. It's a real benefit for landscapers and property maintenance staff, allowing them to allocate time to other tasks and revenue-generating activities besides watering or repairing damaged turf areas due to lack of irrigation.

What's in store for summer? How about "storing" more water so you can save time, money, and resources? Tell us how you use Soil Moist products at home or in your business. We look forward to hearing from you!
Back to Blog »