'Tis the Season to Think Green, Save and Celebrate
---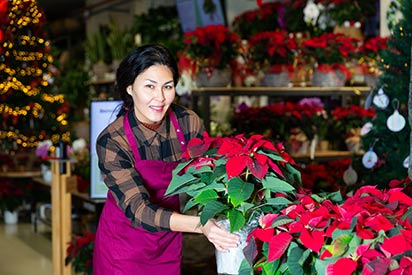 Christmas trees, poinsettias, and snow — oh, my! The holidays are upon us, and here are some water-smart tips to preserve your plants and ideas for seasonal décor.
Temperate weather in November gives landscapers opportunities to continue planting trees and shrubs, even in northern climates where soon the snow will fly. As long as plants go in before the first hard frost, the groundwork for establishing a healthy tree or shrub is prime and even better than planting in spring in many climates. In fact, you can even plant with snow if you can dig into the soil.
Inside, we're decking the halls earlier than ever. As soon as the last trick-or-treaters filled their sacks, retailers changed out displays to Christmas holiday, and the same goes for nurseries and homes stores that sell décor, container plants and seasonal favorites like poinsettias. How will you protect your investment?
And as we shift into the last couple of months of 2022, we enter a time of expressing gratitude, gathering with friends and family, and celebrating traditions old and new. It's a time of home and hearth. The way we create warm spaces inside and out can be enhanced with some tips we'll provide here.
Refresh Landscape Beds – Plant a Tree!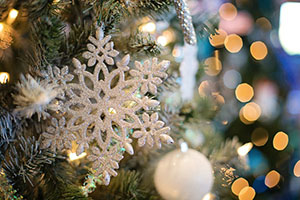 Of course, this time of year we're thinking about trees in the Christmas sense. While many families have moved to artificial trees, the tradition of visiting a local farm or nursery to select a live tree to decorate is a special event. But beyond the tree you'll display inside your home, what about planting one outdoors?
Consider spaces on your property that could use more privacy, or plants that are aging out and are ready to be replaced. While you may be thinking spring is the time to plant, we actually recommend fall and it's not too late. At this time of year, as long as the ground isn't frozen, the roots of trees and shrubs have an opportunity to settle and there is naturally more moisture available to nourish new plants vs. late spring and early summer when you'll be required to water more often.
For landscapers, a complete line of products designed to conserve water and improve soil moisture retention give your clients peace of mind that their end-of-year planting investment is protected. Soil Moist Transplant with beneficial mycorrhiza fungi is like "green insurance" for newly planted trees and shrubs.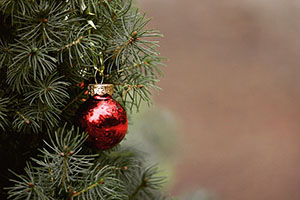 And if you're someone who loves the smell and tradition of a live Christmas tree, you can reduce watering by half and keep needle drop at bay with Tree Moist. Since prices on live trees, along with everything else, have increased in recent years, adding this non-toxic polymer to a 1-gallon tree stand preserves your tree so it lasts longer and stays lush.
What's Inside for Holidays
Whether you're an interiorscaper charged with decorating commercial spaces like retail venues, office buildings and restaurants — or a homeowner who takes pride in creating a special holiday experience —there are simple ways to enhance your hard work and get better results. First, consider the indoor environment as we approach winter and what this means for plants. The heat is on (literally), and containers tend to dry out faster. Also, we tend to be busier. Watering plants is not always top of mind.
Interiorscapers can protect clients' investments in holiday plants with Soil Moist Spikes that store water in soil and reduce the need to water by 50%. If you'll be going out of town, or you know your clients plan to travel, Soil Moist Mats are water aides you place containers on and roots absorb moisture as needed.
Let It Snow!
We're not necessarily talking about the white stuff that requires shoveling, plowing and while welcome at Christmas, can create travel havoc. Retailers are stocking up on Snow Real instant decorative snow for holiday crafts like table centerpieces, holiday displays, silk flower or candle arrangements, school projects and more. By mixing one package of Snow Real with water, you create two quarts of fluffy, glistening snow to use as you wish.
What's in Store for the Holidays?
How about "storing" more water so you can save time, money, and resources? Tell us how you use Soil Moist products at home or in your business. We look forward to hearing from you! We are grateful for your business and wish you a Happy Thanksgiving and holiday season.
Back to Blog »