Water-Wise Strategies to Save Time, Money, and Resources
---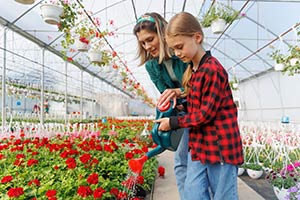 We're officially into the "dog days" of summer where our once-lush green lawns are showing signs of heat. Flower beds and containers require constant watering, and the same goes for the garden—with the reward of a bounty right around the corner.
For landscape and lawn care professionals, irrigation is a main concern. Proper watering is basically insurance, keeping plants and turf healthy to avoid replacements and reseeding later. But there's a careful balance because during drought times, as a good part of the country will impose water restrictions that limit what days and times property owners can run sprinklers.
Did you know, the EPA reports that the amount of water used to water lawns and landscapes skyrockets in summer to 2 to 4 times the water used the rest of the year? Not only is that a major drain on a precious natural resource, but it's also an economic hit to the wallet, too. (And who needs another big bill?)
The good news is, there are simple strategies homeowner and professionals like you can put into play to reduce water use while maintaining beautiful, healthy plants, landscapes, and lawns. Ready to start saving?
Make the Most of Moisture
With planting mostly completed, ensuring proper hydration of baskets, containers and window boxes that tend to dry out quickly in July doesn't have to be a constant battle. If you feel like you're on double-duty with the hose and watering can, there is a better way.
First, let's tackle those plantings that are not in the ground—the ones in colorful vessels on your deck, hanging from shepherd's hooks along your front walkway, or blooming in boxes in front of a picture window. By incorporating Soil Moist into these containers, you give water staying power. The product holds several hundred times its weight in water and releases it back to the plant as soil dries out. All you have to do is incorporate it into soil at the root level. Since your plants are already in containers, we suggest poking holes into the soil so you can push the product down. It reduces watering by 50% and lasts a full season.
In plant beds, you can maximize the efficiency of watering and reduce how much and how often you use the sprinkler with Soil Moist Water Aide. For the sustainably minded, Water-Aide is OMRI listed as acceptable for use by organic growers on all types of plants and vegetables. It works by forming a gel polymer that traps water and moisture on targeted areas. The result: less watering.
Heading on vacation this summer? Pack containers and hanging baskets with Soil Moist Mats.
Preserve and Jumpstart Plants & Turf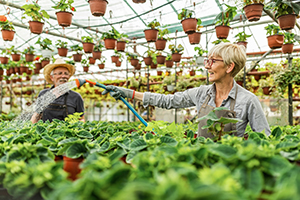 As a professional landscaper focused on maintenance, lawn care and plant installation, water is the special sauce. You can apply the highest quality fertilizer product but without proper irrigation, you're wasting resources. Meanwhile, homeowners are focused on the outdoors at this time of year and requesting plantings or larger projects like hydroseeding. How will you set them up for success?
You can conserve water, manage erosion, and improve soil moisture retention in a cost-effect way with water-storing products that save time and resources.
To reduce landscape bed watering by 50%, you can work Soil Moist polymer granular into the soil. It also reduces transplant shock and soil compaction, which impacts root development and can prevent plants from uptaking water, oxygen, and nutrients. Basically, it's insurance for your clients' landscape beds.
You might consider trading out fertilizers to Soil Moist Plus with a 7-7-7 eight- to nine-month time release. And for hydroseeding, applying Soil Moist Hydro that is as fine as sugar can help retain moisture as seed germinates and matures into a lush lawn. Hydroseeding is a costly process, so homeowners might instead prefer dry seeding, especially if they want to address bare spots in the lawn mid-summer before the ideal fall planting time. Give seeds a boost with Soil Moist Seed Coat that will help hold in moisture.
You can't control the weather, your HOA, or municipalities' water restrictions, but you can manage moisture by using water-wise products that maximize your time and, ultimately, your profitability.
A Fresh Approach for Floral—and Beyond
Prime wedding season keeps florists busy—not to mention graduations and summer celebrations like July Fourth. You can work ahead and assure fresh, vibrant arrangements by using attractive, creative water-storing gel Deco Beads. Just add water! Deco Beads come in 20 different colors in 8-ounce jars or bulk pails, so you can mix and match. At home, use Deco Beads for centerpieces or fun craft projects.
What's in store for the rest of your summer? How about "storing" more water so you can save time, money, and resources? Tell us how you use Soil Moist products at home or in your business. We look forward to hearing from you!
Back to Blog »