Plant Tabs: Make plants stronger and survive transplanting
---
Plant Tabs
Plant Tabs, mycorrhizal fungi. High performance Plant Tabs for all plants contain beneficial Ectomycorrhizal and Endomycorrhizal fungi with timed release fertilizer with organic matter and micronutrients. The tabs are organically based with twelve specifically selected highly effective mycorrhizal fungi to make plants stronger and survive transplanting.
Each tablet contains ten million spores from five types of specifically selected Ectomycorrhizal fungi, and fifty spores from seven types of specifically selected Endomycorrhizal fungi. This combination of high spore counts of endo and ecto spores gives the tablet a broad range of planting applications. Each tablet is combined with low levels of timed release fertilizers (fulvic acid base) that encourage mycorrhizal growth.
Compatibility
The blend of twelve spore types of mycorrhizal fungi allows the Plant Tab to have a wide variety of planting applications. The Plant Tab is compatible for all types of plants and shrub species except Laurels, Azaleas and Rhododendrons.
Application
Place the Tab(s) 1/3 to 1/2 at a depth of the root zone system. For existing plants place the Tab(s) 4-6 inches deep in the soil near the drip line.
Package Sizes
50 Tabs per bag
300 Tabs per jar
2000 Tabs per 1 gallon pail
10,000 Tabs per 6 gallon pail
Learn More: Download PDF Form #751
Benefits:
Increases plant growth and survival
Increases nutrient and water uptake
Inproves soil structure
Reduces transplanting stress
Protects plants against diseases
Easy to use and apply
Cost effective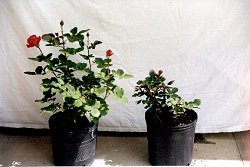 Tabs Guide
# of Tabs
Height of Plant
1
Seeds
3
<1 foot tall
6
1 - 2 feet tall
8
2 - 4 feet tall
Use ten (10) plant tabs per caliper inch